My new business Memory Echoes, LLC had a great first year! I love to interview folks and consider it a privilege and an honor to hear their stories. As I listen to them, a book forms in my imagination. They trust me with their precious family pictures and documents, I scan them, play in Photoshop, and weave them together with their stories to create a book layout. There is nothing as satisfying as going through the process with them over a period of months and then handing them the finished book. Their life stories are preserved for future generations and a legacy has been passed on.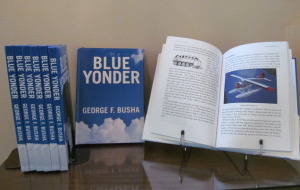 One of my first clients is a 93 year old man named George. George had a dream. He could picture in his mind's eye the cover of the book he wanted me to help him create. He was a bombardier in World War II and perched in the Plexiglas nose of a bomber as he flew from his base in Benghazi to targets in Italy. He dropped many bombs and is proud of the role he played in the allied victory.  From imagination to reality, his book cover pops with a bright blue sky and magnificent clouds as the background for his title Blue Yonder. At age 6 he played his own Blue Yonder game with colorful matchstick planes fighting for position under his father's huge desk. He wanted the book for his memoirs to display the title commemorating the game that inspired his path to the wild Blue Yonder in the WWII US Air Corps. He enjoyed the whole process as I led him through interviews, helped him gather photos, war medals, and letters from his generals, and discussed layout/book production options. We became good friends. George said,
"Linda helped me create this marvelous book and it's been so well received as I get feedback from my family and friends. She was wonderful to work with, the best."
 I'm heading over to George's soon. A tremendous benefit of my business is making new friends and being trusted with their life stories. He's promised me a glass of wine and will regale me with new stories!